Title
: THE FEET SAY RUN
Author
: Daniel A. Blum
Publisher
: Gabriel's Horn Press
Pages
: 349
Genre
: Literary Fiction
At the age of eighty-five, Hans Jaeger finds himself a castaway among a group of survivors on a deserted island.
What is my particular crime?
he asks
. Why have I been chosen for this fate?
And so he begins his extraordinary chronicle.
It would be an understatement to say he has lived a full life. He has grown up in Nazi Germany and falls in love with Jewish girl. He fights for the Germans on two continents, watches the Reich collapse spectacularly into occupation and starvation, and marries his former governess. After the war he goes on wildflower expeditions in the Alps, finds solace among prostitutes while his wife lay in a coma, and marries a Brazilian chambermaid in order to receive a kidney from her.
By turns sardonic and tragic and surreal, Hans's story is the story of all of the insanity, irony and horror of the modern world itself.
FOR MORE INFORMATION:
Cover: I usually don't like watermarked covers (is that what it's called?) but the more I looked at it, the more I started to fall in love with it. It evokes a tropical feeling which lends itself great to the storyline. And back to the watermarking, the cover gives me the feeling that it's raining. Does it do that to you, too?

Title: Wow. The title evokes adventure and mystery for sure!


First Chapter: The first chapter opens with a group of people stranded on a deserted island. I love it that the author chose to open with this. The narrator tells of life on a deserted island - what they ate, how they lived, who they co-inhabited with. Not sure how many people are there but the author has a way of writing that lets you explore who these characters are with no confusion. I hate it when writers throw characters at you are your brain is trying to sort them out. I'm really intrigued to see how this story is going to go after this first chapter. I'm not sure how these people ended up stranded but it reminds me of Naked and Afraid where two people are thrown together on what looks to be stranded islands and they are forced to find food and shelter or go without. That's sort of the predicament these people are in. Man this book is so up my alley.

Would I Keep Reading: Dumb question. OF COURSE! Omg for one thing, I love how the first chapter ended: "We will get there. In due time. But now I see I must go back further. I must say something more of myself." This gave me the impression that we were going to go back in time and find out how they got there which would be an integral part of the plot, I'm supposing. Yes, yes, yes, is it book time yet? I can't wait to read the rest!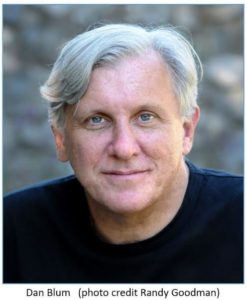 Daniel A. Blum grew up in New York, attended Brandeis University and currently lives outside of Boston with his family. His first novel Lisa33 was published by Viking in 2003. He has been featured in Poets and Writers magazine, Publisher's Weekly and most recently, interviewed in Psychology Today.
Daniel writes a humor blog, The Rotting Post, that has developed a loyal following.
WEBSITE & SOCIAL LINKS: