Our guest character today is

Martha McGary

, a character out of Michael & Kathleen McMenamin's THE LIEBOLD PROTOCOL. Enjoy the interview!
What is your name?
Martha McGary, but I've always been called 'Mattie' by my friends and family.
And your enemies?
It varies, but the one I hear most often is 'that red-haired bitch'.
What do you look like?
Well, red hair, obviously.

People say I look a lot like the aviatrix Amelia Earhart, only better. My husband thinks I'm drop-dead gorgeous, but he may be biased…or jealous…or both. All I know is I'm 34 years old and heads still turn when I enter a room.
Where are you today and what are you doing?
I'm at our Irish home on the cliffs of Slieve League in County Donegal. I'm preparing for an interview tomorrow in Galway of General Eoin O'Duffy, the head of the Army Comrades Association, a fascist political party otherwise known as the Blue Shirts, an obvious homage to Hitler's Brown Shirts and Mussolini's Black Shirts. The interview is the last I'm doing for my story for the Hearst papers—where I work—on fascist political movements in Europe other than Germany and Italy. Democracy is on the decline in Europe and the bloody fascists think they're the wave of the future. I hope they're wrong, but my biggest fear is that they're not.
Describe the outside of your home.
Which one? After I married last summer, I have four. One is my husband's brick and granite townhouse on Fifth Avenue in Manhattan across from the Metropolitan Museum of Art; another is his 300 acre estate at Sands Point on Long Island Sound; a third is my parents' large home in the Scottish Highlands on the shores of Loch Ness near Inverness; and the fourth is where I am right now, a restored Martello Tower on the highest cliffs in Europe—1,500 feet—that my husband gave me as a wedding present.
What's a 'Martello Tower'?
Martello Towers were built during the early 19

th

century throughout the British Isles, mostly as a defense against an invasion by Napoleon. Ours is an early one for it's square whereas most of the Martellos are round. It's two stories high with a flat battlement on top. Typically, a Martello Tower has eight-foot thick granite walls and one gun that could fire in all directions. One officer and 24 soldiers manned them. They are patterned after a similar fort on the island of Corsica that the Royal Navy had thought impressive. Over a hundred were built in England and over fifty in Ireland. The fort was located at Mortella Point, but somehow the English managed to misspell it as 'Martello'. As a Scot, I'm not

surprised. In my experience, the English aren't really that bright.

At the back of our tower, there are no windows, only a small, polished wooden door. Above, there are four windows on each side of the tower, two to a floor. Inside on the ground floor is a long, whitewashed hallway that leads to stairs at the front of the tower.

There are electric sconces as well as framed pictures along the wall on both sides of the hallway. Halfway down the hallway are two doors that originally held gunpowder and supplies, but now are bedrooms, each with a full bath and shower. The Tower has its own gasoline-powered generator for electricity that lights the place and runs a water pump that takes water from the tower's original cistern and sends it to the baths and up to the kitchen, which is on the roof level. There is an internal drainage system on the roof that captures rainwater and refills the cistern every time it rains which, being Ireland, means every day.

Two-third's the length of the flat top floor of the tower—the battlements—has been enclosed to form a combination kitchen and dining room complete with sink, stove, refrigerator, fully-stocked bar and a long refectory table seating eight. It's covered by a traditional Irish-thatched roof that soars up from the back wall. There is a spectacular view of the Atlantic Ocean in three directions as the sidewalls have large windows extending above the stone battlements; and the front wall is entirely glass in the middle of which is a wood-framed door that leads to the terrace beyond. All in all, it is a perfect little house and a perfect wedding present.
You come face to face with your worse enemy. How do you react?



I already have. His name is Reinhard Heydrich, the # 2 man in Hitler's personal bodyguard, the SS. Hitler calls him 'The Man With the Iron Heart'; others call him 'The Blond Beast'. What I call him isn't printable. The first time I came face-to-face with him, I kneed him in the groin. On another occasion, I jammed an automatic pistol into that same groin and declared a Highlands Blood Feud between us. That's because, to keep me silent about his role in an attempt to assassinate Hitler in early 1933, the bloody bastard killed someone close to me and threatened the lives of my closest relatives and their young families if I ever disclosed his role or if he died prematurely. I told him that if I or anyone close to me such as my then-fiancé and now my husband were killed, I would have three of his relatives killed in response.

I don't think he believed me at first, but when the severed head of his adjutant was left on his doorstep by close friends of mine, he changed his mind. Now, he more or less looks after my safety when I'm in Germany on assignment. If you want more details, check out

The Berghof Betrayal

where I had excusive interviews with both FDR and Hitler and was sitting in a motorcar beside both of them during attempts on their lives.

That

earned me my first Pulitzer.
You keep a photo album of memories from your lifetime. If you could only keep one photo, which one would that be?
Unfair question. I'm a photojournalist for Hearst and I have tons of favorites. But if pressed, the one I would pick I took on top of the Graf Zeppelin 500 feet above the Atlantic Ocean. There was a tear in the airship's fabric skin and three men were standing on top of the ship lowering a fourth man with a rope over the side of the ship to repair the tear. There are two reasons I would pick this photo. First, it's a fantastic photo and perfectly illustrates what one of my mentors, Alfred Eisenstadt, taught me: 'If your photos aren't good enough, you're not close enough'. I was damn well close enough that day. The second reason is that the photo reminds me not to be stupid about my own safety. Instead of staying safely in a hatch on top of the airship and taking my photos from there, I stupidly crawled out onto the top of the zeppelin to get a better shot and I almost fell off into the Atlantic Ocean where the fall alone would have killed me. You can read all about it in The Parsifal Pursuit.
How do you feel about mortality?
If you mean death, I would prefer it happen later than sooner.
What scares you?
Adolf Hitler and the Nazi government are pretty scary.
How would your parents describe you?
They're gone now, but I think they'd say I was a headstrong, stubborn little tomboy always trying to keep up with her older brothers.
Who is your best friend?
My husband and the love of my life, Bourke Cockran, Jr.
Are you faith-oriented?
Well…more than my husband, but that's a low bar.



Inside the Book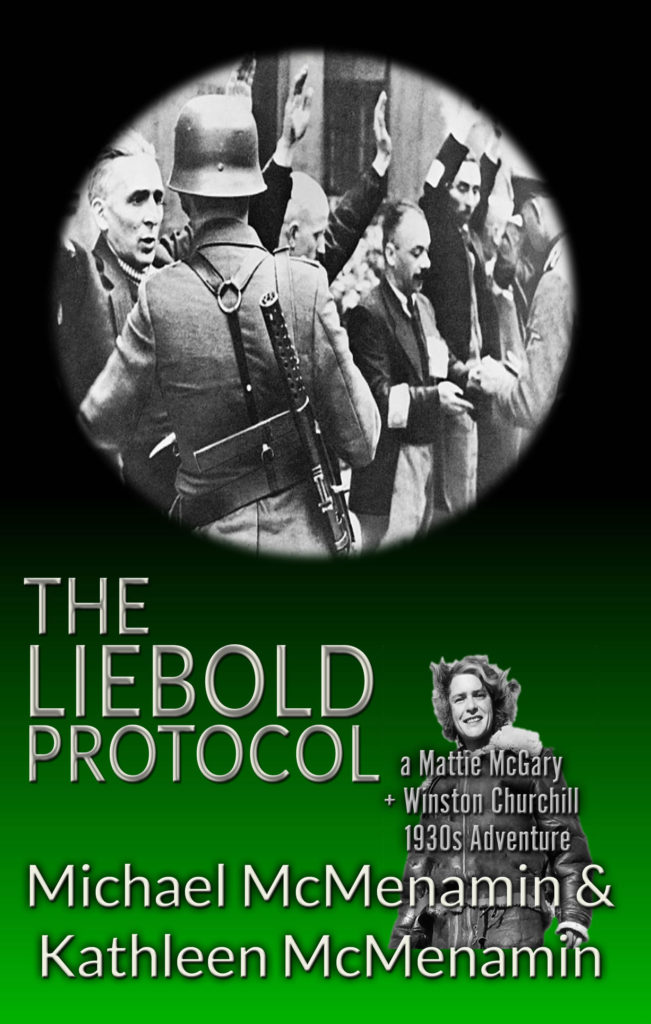 Title: THE LIEBOLD PROTOCOL
Author: Michael & Kathleen McMenamin
Publisher: First Edition Design Publishing
Pages: 389
Genre: Historical Thriller
BOOK BLURB:
Winston Churchill's Scottish goddaughter, Mattie McGary, the adventure-seeking Hearst photojournalist, reluctantly returns to Nazi Germany in the summer of 1934 and once again finds herself in deadly peril in a gangster state where widespread kidnappings and ransoms are sanctioned by the new government.
Mattie turns down an early request by her boss Hearst to go to Germany to report on how Hitler will deal with the SA Brown Shirts of Ernst Rohm who want a true socialist 'second revolution' to follow Hitler's stunning first revolution in 1933. Having been away from Germany for over a year, her reputation as "Hitler's favorite foreign journalist" is fading and she wants to keep it that way.
Instead, at Churchill's suggestion, she persuades Hearst to let her investigate one of the best-kept secrets of the Great War—that in 1915, facilitated by a sinister German-American working for Henry Ford, British and Imperial German officials essentially committed treason by agreeing Britain would sell raw rubber to Germany in exchange for it selling precision optical equipment to Britain. Why? To keep the war going and the profits flowing. After Mattie interviews Ford's German-American go-between, however, agents of Scotland Yard's Special Branch are sent by Churchill's political opponents in the British government to rough her up and warn her she will be prosecuted under the Official Secrets Act unless she backs off the story.
Left no choice, Mattie sets out for Germany to investigate the story from the German side and interview the German nobleman who negotiated the optics for rubber deal. There, Mattie lands right in the middle of what Hearst originally wanted her to investigate—Adolf Hitler believes one revolution is enough—and she learns that Hitler has ordered the SS to assassinate all the senior leadership of Ernst Rohm's SA Brown Shirts as well as other political enemies on Saturday 30 June, an event soon known to History as 'The Night of the Long Knives'.
Mattie must flee Germany to save her life. Not only does the German-American working for Henry Ford want her story on the optics for rubber treason killed, he wants her dead along with it. Worse, Mattie's nemesis, the 'Blond Beast' of the SS, Reinhard Heydrich, is in charge of Hitler's purge and he's secretly put her name on his list…
ORDER YOUR COPY:
______________________
Meet the Authors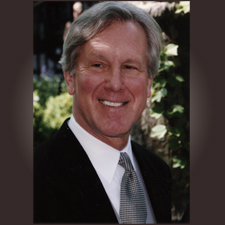 Michael McMenamin
is the co-author with his son Patrick of the award winning 1930s era historical novels featuring Winston Churchill and his fictional Scottish goddaughter, the adventure-seeking Hearst photojournalist Mattie McGary. The first five novels in the series—
The DeValera Deception, The Parsifal Pursuit
,
The Gemini Agenda, The Berghof Betrayal
and
The Silver Mosaic
—received a total of 15 literary awards. He is currently at work with his daughter
Kathleen McMenamin
on the sixth Winston and Mattie historical adventure,
The Liebold Protocol.
Michael is the author of the critically acclaimed
Becoming Winston Churchill, The Untold Story of Young Winston and His American Mentor
[Hardcover, Greenwood 2007; Paperback, Enigma 2009] and the co-author of
Milking the Public, Political Scandals of the Dairy Lobby from LBJ to Jimmy Carter
[Nelson Hall, 1980]. He is an editorial board member of
Finest Hour,
the quarterly journal of the International Churchill Society and a contributing editor for the libertarian magazine
Reason.
His work also has appeared in
The Churchills in Ireland, 1660-1965, Corrections and Controversies
[Irish Academic Press, 2012] as well as two
Reason
anthologies,
Free Minds & Free Markets, Twenty Five Years of Reason
[Pacific Research Institute, 1993] and
Choice, the Best of Reason
[BenBella Books, 2004]. A full-time writer, he was formerly a first amendment and media defense lawyer and a U.S. Army Counterintelligence Agent.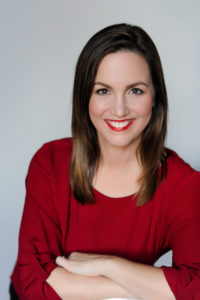 Kathleen,
the other half of the father-daughter writing team, has been editing her father's writing for longer than she cares to remember. She is the co-author with her sister Kelly of the critically acclaimed
Organize Your Way: Simple Strategies for Every Personality
[Sterling, 2017]. The two sisters are professional organizers, personality-type experts and the founders of
PixiesDidIt,
a home and life organization business. Kathleen is an honors graduate of Sarah Lawrence College and has an MFA in Creative Writing from New York University. The novella
Appointment in Prague
is her second joint writing project with her father. Their first was "Bringing Home the First Amendment", a review in the August 1984
Reason
magazine of Nat Hentoff's
The Day They Came to Arrest the Book
. While a teen-ager, she and her father would often take runs together, creating plots for adventure stories as they ran.
WEBSITE & SOCIAL LINKS: